The Department of Medical Education at CPMC ensures that quality medical education is imparted at the institute. This ensures that the graduates are competent and groomed health care professionals. It conducts continuous educational activities in the form of workshops, seminars, symposiums, conferences and awareness walks. The Department of Medical Education is involved in curriculum planning and implementation, student support, policy making for student induction, improving teaching strategies, student assessment, development of faculty, development of communication skills, critical thinking, basic life support measures, medical ethics, professionalism, leadership skills and quality assurance. We value our students and take regular feedback from them. We focus on teaching and research methodologies and conduct workshops for faculty development on regular basis.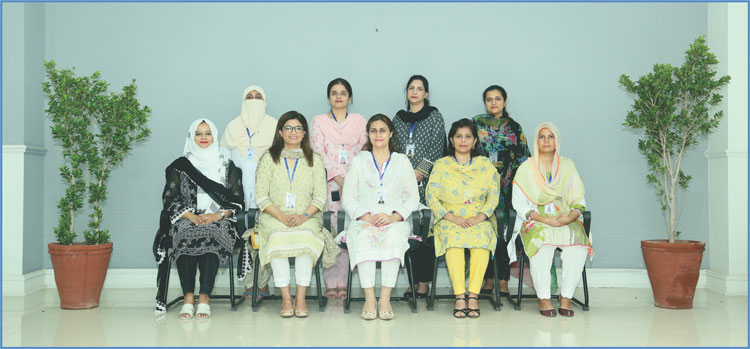 MODULAR CURRICULUM
The institute has started to implement modular curriculum from the session 2020 to provoke critical thinking and integration of basic medical sciences with the clinical subjects. This ensures that students develop strong concepts, better understanding and results in a 7 start doctor.
ACADEMIC SUBJECTS
MBBS 1st & 2nd PROFESSIONAL COMPRISES OF THE FOLLOWING SUBJECTS.
SUBJECTS
TOTAL HOURS TO BE TAUGHT
EXAMINATION YEAR
ANATOMY
500
PHYSIOLOGY
450
MBBS 1ST & 2ND YEAR
BIOCHEMISTRY
250
MBBS 3rd YEAR COMPRISES OF
| SUBJECTS | TOTAL HOURS TO BE TAUGHT | EXAMINATION YEAR |
| --- | --- | --- |
| PHARMACOLOGY | 300 | |
| GENERAL PATHOLOGY & SPECIAL PATHOLOGY | 250 | MBBS 3RD YEAR |
| BEHAVIORAL SCIENCES | 150 | |
| FORENSIC MEDICINE | 100 | |
| SUBJECTS | TOTAL HOURS TO BE TAUGHT | EXAMINATION YEAR |
| --- | --- | --- |
| COMMUNITY MEDICINE | 270 | |
| SPECIAL PATHOLOGY | 250 | MBBS 4TH YEAR |
| OPHTHALMOLOGY | 150 | |
| OTORHINOLARYNGOLOGY | 150 | |
MBBS 4th PROFESSIONAL COMPRISES OF
| SUBJECTS | TOTAL HOURS TO BE TAUGHT | EXAMINATION YEAR |
| --- | --- | --- |
| SURGERY & ALLIED | 600 | |
| GENERAL SURGERY | 100 | |
| ORTHOPEDICS & TRAUMATOLOGY | 100 | MBBS FINAL YEAR |
| ANESTHESIA & CRITICAL CARE | 50 | |
| UROLOGY & CARDIOTHORACIC SURGERY | 50 | |
| | 50 | |
| SUBJECTS | TOTAL HOURS TO BE TAUGHT | EXAMINATION YEAR |
| --- | --- | --- |
| MEDICINE & ALLIED | 500 | |
| GENERAL MEDICINE | 50 | |
| PSYCHIATRY | 50 | |
| EMERGENCY MEDICINE | 50 | |
| DERMATOLOGY | 50 | |
| CARDIOLOGY | 50 | MBBS FINAL YEAR |
| PUMLONOLOGY | 50 | |
| NEPHROLOGY | 50 | |
| GASTROENTROLOGY | 50 | |
| RHEUMATOLOGY | 50 | |
| NEUROLOGY | 50 | |
| SUBJECTS | TOTAL HOURS TO BE TAUGHT | EXAMINATION YEAR |
| --- | --- | --- |
| OBSTETRICS & GYNAECOLOGY | 300 | |
| PAEDIATRICS | 300 | MBBS FINAL YEAR |