Rheumatology is a sub-specialty of Internal Medicine dealing with medical conditions of joints and bones, especially auto-immune diseases. People of all ages can be affected by these diseases. Rheumatic diseases not only effect the joints but can also involve other organ systems like kidneys, lungs, heart, brain, nerves, skin etc., These diseases are the major cause of disability worldwide and if not treated timely, disease like SLE, vasculitis can lead to permanent organ damage and even pre-mature death.
This department was established in 2021 as a collaborative project of Central Park Medical College and Arthritis Care Foundation a charity working for welfare of less privileged arthritis patients with a vision to develop a center of excellence committed to providing state of the art care to rheumatic disease patients from all walks of life, teaching, training and research in the field of Rheumatology.
The Department has a 20 bedded dedicated rheumatology ward, equipped with monitored high attention beds and infusion bays, spacious outpatient department catering thousands of patient visits annually.
Services: Department of Rheumatology is providing state of the art facilities to the patients with: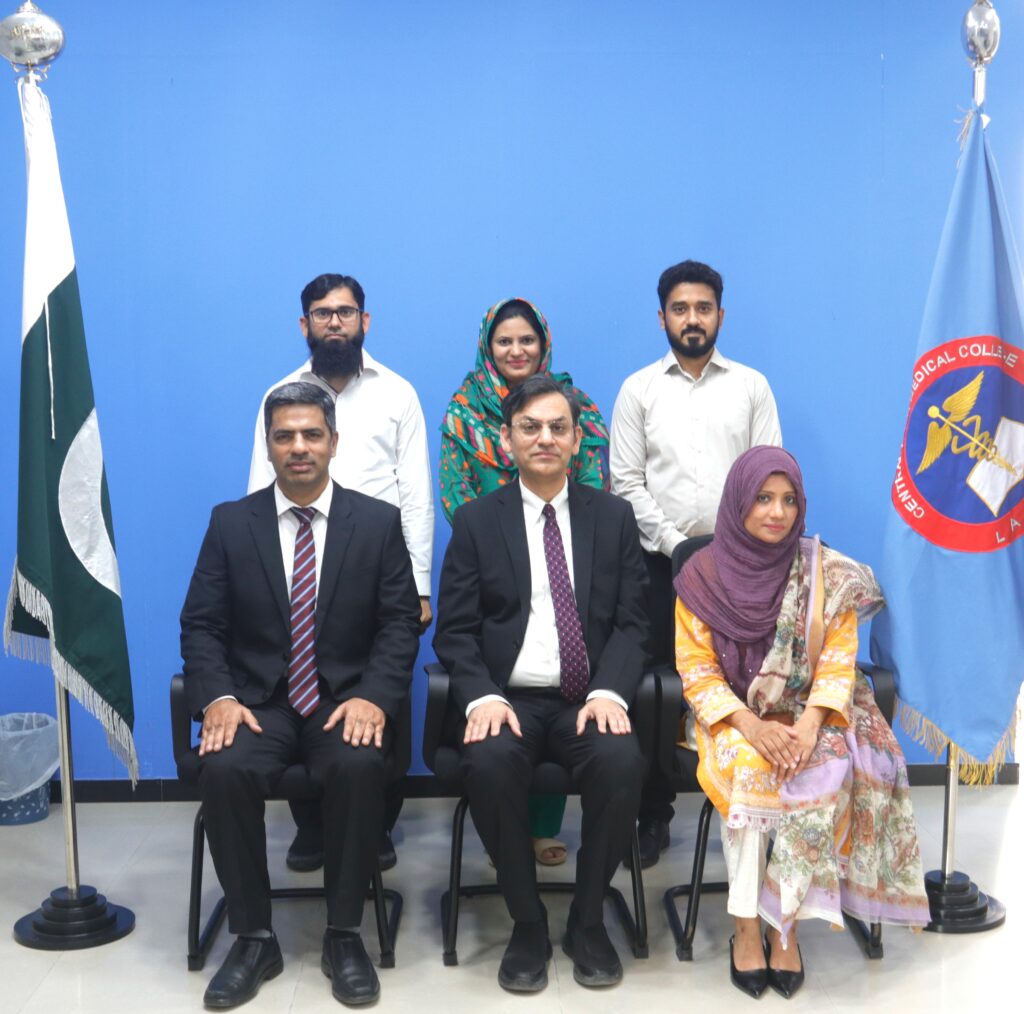 Post-graduate Training: This department is one of the leading centers for training & research in the field of Rheumatology and is accredited by the College of Physician & Surgeons (CPSP). This department is offering services to patients from all walks of life and have dedicated private, semiprivate & general clinics. Currently there are three fellows in training.
Research: Apart from patient care, teaching and training, the faculty is actively involved in clinical research and has published several articles in national and international journals. This department is one of the sites recruiting patients of Ankylosing Spondylitis and Psoriatic Arthritis for Asia Pacific League of Associations for Rheumatology (APLAR) Spondyloarthritis (SpA)Registry. This site is also contributing towards a Lupus registry which is a collaborative research project of Arthritis Care Foundation (ACF), Fatima Jinnah Medical University (FJMU) and National Institute of Health (NIH), Bethesda, Maryland, USA. Prof. Muhammad Ahmed Saeed being part of WHO-ILAR's COPCORD (Community Operated Program for Control of Rheumatic diseases), has conducted and recently published a survey in IJRD on prevalence of inflammatory back pain and radiographic axial SpA in a semi-urban community of Lahore
Community Services: This department is collaborating with Arthritis Care Foundation for providing free and subsidized medications to less privileged and faculty regularly conducts free rheumatology clinics at ACF centers as well. Faculty regularly organizes awareness walks & public seminars for creating awareness in public about rheumatic diseases.
Continuous Medical Education (CME) Activities: The Department of Rheumatology at Central Park Medical College time to time organizes guest lectures and CMEs for family physicians. Faculty lately co-organized an international annual Pakistan Society for Rheumatology conference in October, 2022 in Lahore which was very well attended. Faculty initiated virtual "Three Topics in Rheumatology" engaging renowned International and National faculty covering key topics in rheumatology.
Services: Department of Rheumatology is providing state of the art facilities to patients with:
Rheumatoid Arthritis

Lupus

Scleroderma

Sjögren's Syndrome

Myositis

Vasculitis

Neck & Back pain

Ankylosing Spondylitis

Psoriatic Arthritis

Childhood arthritis

Soft Tissue Rheumatism

Osteoporosis

Osteoarthritis

Intra-articular and Soft Tissue Injections

Biologic Infusion Centre

Musculoskeletal ultrasound and guided intra-articular injections